Chamomile oil(German chamomile)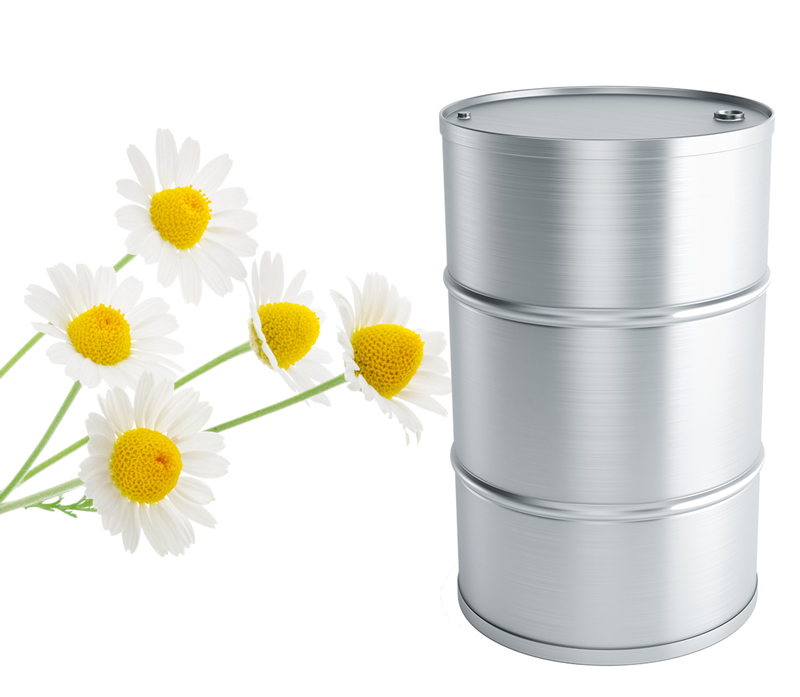 Chamomile German essential oil offers potent benefits and properties. At Ruistars Industry, we provide purest extract of Chamomile German essential oil to treat skin disorders and acute pain in the body. Also, it's in popular demand among people boasting to wonderful properties.
German chamomile essential oil exudes a straw-like scent, black-green color and medium viscosity.
This product is produced in Yili, Xinjiang, China. It is a pure natural plant extracting essential oil to ensure high quality and price concessions. Welcome to patronize.
Chamomile German essential oil has herbal sweet fragrance which makes it perfect for perfumes and deodorants. It has vital chemical components like Sesquiterpenes, 36 Flavonoids, Coumarins, Polyacetylenes, Chamazulene and as well as 28 Terpenoids.
Product Description
German chamomile essential oil is extracted from German chamomile (matricaria re-cutita, chamomilla recutita) and belongs to the family Asteraceae. Also known as blue chamomile, mother chrysanthemum, Hungarian chamomile and single-chamber chrysanthemum, it is a light blue liquid that sometimes turns yellow.
Also known as Italian camomilla, German chamomile and Hungarian chamomile, Matricaria chamomilla is an annual part of Asterceae family. It grows 15 to 60 cm in height and have narrow leaves.
| | | | | | | |
| --- | --- | --- | --- | --- | --- | --- |
| BOTANICAL NAME | ORIGIN | CULTIVATION | METHOD OF EXTRACTION | SOURCE | NOTE | SOLUBILITY |
| Matricaria chamomilla L | China | Conventional | Steam Distillation | Flowers | bitter sweet note | Soluble in alcohol |
Name: Chamomile Oil
CAS NO.: 8015-92-7
Product Type: Plant Essential Oil
Appearance and scent: Light blue to light green-blue liquid with characteristic aromas held by flowers.
Packing specification: 180KG galvanized steel drum.
Main ingredients: pine mites, terpenes, myrcene, eucalyptus, pine oil, terpinene, caryophyllen and the like.
Product preparation: Chamomile flowers are steam distilled to obtain essential oils.
Packing and storage: Store in a cool dry place and seal.
Product form: oil soluble fragrance.
Chamomile oil effect
1. Chamomile is famous for its cool and calming role in Ning Shen. Insect bites, dry skin, gastrointestinal discomfort, irregular menstruation, and the use of chamomile essential oil products can be quickly relieved.
2, due to the unique effect of chamomile, it has very good comfort and repair, adjust the uneven skin tone.
3, bathing with chamomile essential oil, you can get a good soothing effect, relieve mental stress and fear, relieve psychological stress, cleanse and calm the nerves, especially help sleep.
4, chamomile essential oil for the special benefits of babies, mild and comfortable characteristics, making chamomile essential oils become the first choice for all kinds of skin care.
Precautionary Measures!
When taken Chamomile German essential oil orally for short-term, it doesn't cause any side effect. However, it should be avoided giving to children, pregnant women as well as lactating mothers as there is not enough reliable information about it being safe for consumption.
Roman chamomile essential oil
It is slightly weaker than German chamomile essential oil, with a thin texture and a little sweetness. It is more widely used in skin care.
Benefits of Chamomile German Essential Oil
• When mixed with rosemary, sweet almond and lavender oil, it can be applied on scalp to treat hair problems.
• Chamomile German essential oil can be sprayed on face every night for a glowing skin.
• People with migraine issues can benefit by pouring some drops of this oil on forehead.
• It can alleviate joint pain, muscle strain and cramps as it is constituted with anti-inflammatory properties.
Blends well with
Chammomile German essential oil goes well with Tea Tree, Lavender, Lemon ,Rose, Neroli, Patchouli, Ylang Ylang, Bergamot, Clary sage, and Jasmine.