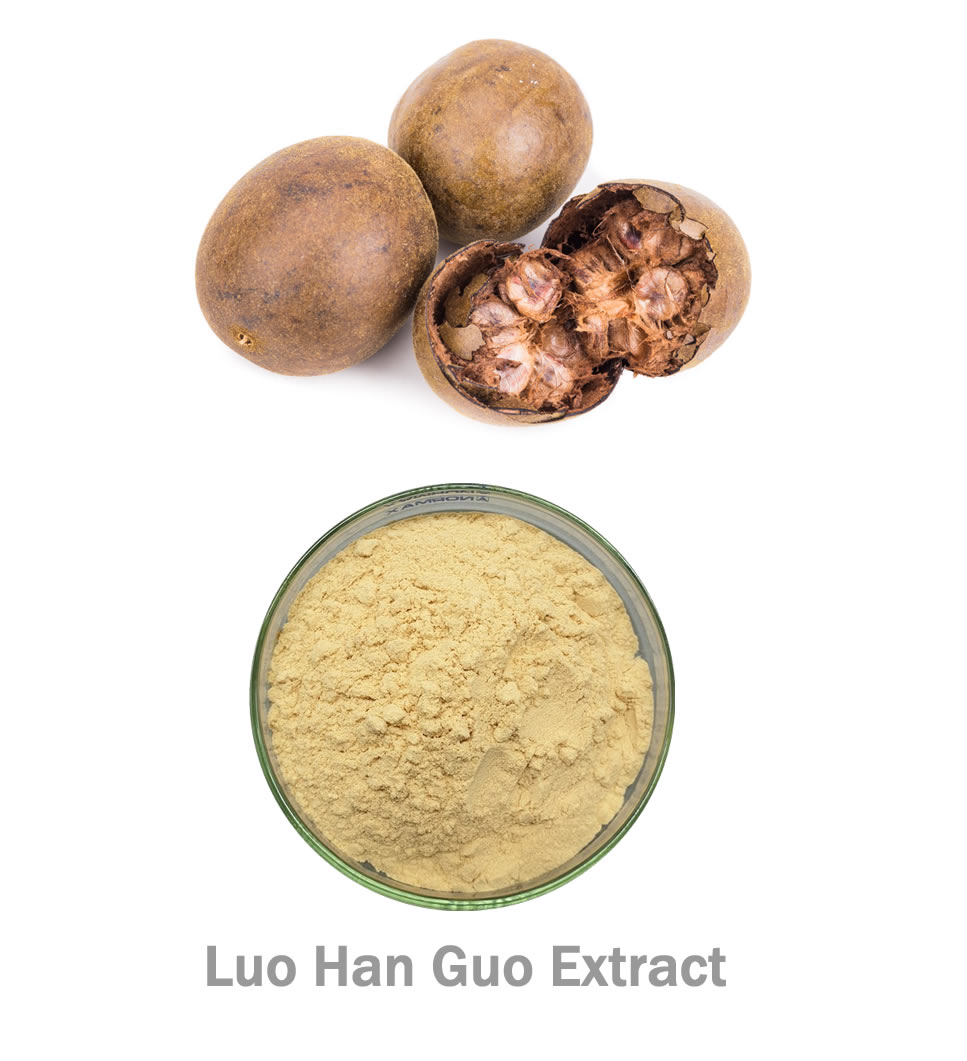 Product Name:Luo Han Guo Extract (Monk Fruit)
CAS No:88901-36-4
Monk Fruit Extract/Luo Han Guo extract is an incredibly exciting and totally unique new sweetener that provides benefits no other sweeteners can! Unlike sugar, Stevia, Equal, Sweet ON Low and other ordinary sweeteners, Luo Han Guo extract does not stimulate fat storage, elevate insulin levels or raise cholesterol.
Made from natural Lo Han fruit, Luo Han Guo extract has been clinically proven to speed up the fat burning process without stimulating insulin production. Luo Han Guo extract is the first and only sweetener available that's great for weight loss,completely natural, and safe for diabetics, children, hypoglycemics, and anyone who wants to significantly improve their diet!
Product description
The Luo Han Guo plant is cultivated for its fruit, whose extract is nearly 300 times sweeter than sugar and has been used as a low-calorie sweetener. The sweet taste of the fruit comes mainly from mogrosides, a group of triterpene glycosides that make up about 1% of the flesh of the fresh fruit.Through solvent extraction, a powder containing 80% mogrosides can be obtained, the main one being mogroside-5 (esgoside).
It is used for Traditional Chinese medicine and applies to cure disease, such as high blood pressure, pulmonary tuberculosis, asthma, gastritis, whooping cough, acute & chronic tracheitis and acute & chronic tonsillitis, etc. Luo Han Guo fruit and its extract are dual-use in therapeutic and health products. At present, Luo Han Guo is allowed to use as a food additive in these countries: Japan, Korea, Thailand, Singapore, Europea, USA (GRAS Approved) , Australia and China, etc.
| | | | |
| --- | --- | --- | --- |
| Product Name: | Luo Han Guo Extract /Monk Fruit Extract | Latin Name: | Siraitia Grosvenorii |
| CAS No.: | 88901-36-4 | Type: | Herbal Extract |
| Plant Source: | Fruit | Grade: | Food and Pharmaceutical Grade |
| Appearance: | White to Light Yellow-brown Powder | Test Method: | HPLC&UV |
| MF: | C60H102O29 | Specification: | 80%-98% Mogrosides 20%-65% Mogroside V Monk Fruit Juice Powder |
| MW: | 1287.43 | Certificate: | ISO9001/Halal/Kosher/GMP/HACCP |
| Extraction Type: | Solvent Extraction | Place of Origin: | China |
| Sample: | Available | Active Ingredient: | Mogrosides/Mogroside V |
| Botanical Name: | Momordica Grosvenori | Solubility: | 100% water soluble. |
| Used: | flavor enhancer in foods and beverages | Packaging: | 25kgs/fiber Drum or customuzed according to clients's requirements |
LUO HAN GUO APPLICATIONS:
1. Beverages and Beverage Mixes
2. Carbonated beverages
3. Non-carbonated beverages
4. Hard and Soft Candy
5. Jams and Jellies
6. Chewable candy and tablet
7. Dairy Products
8. Processed Fruits and Fruit Juices
9. Processed Vegetables and Vegetable Juices
10. Confections and Frostings
11. Nutritional & Dietary Products
12. Table-top sweeteners
13. Processed fruit
14. Chewing gum
15. Dry-mix products
16. Fruit spreads
17. Frozen desserts
18. Salad dressing
19. Flavour Enhancers
LUO HAN GUO FUNCTION:
1. Natural sweetener
2. Lower blood sugar
3. Antioxidant activity
4. Strengthen immunity
5. Relieving cough and eliminating phlegm
6. Caries prevention