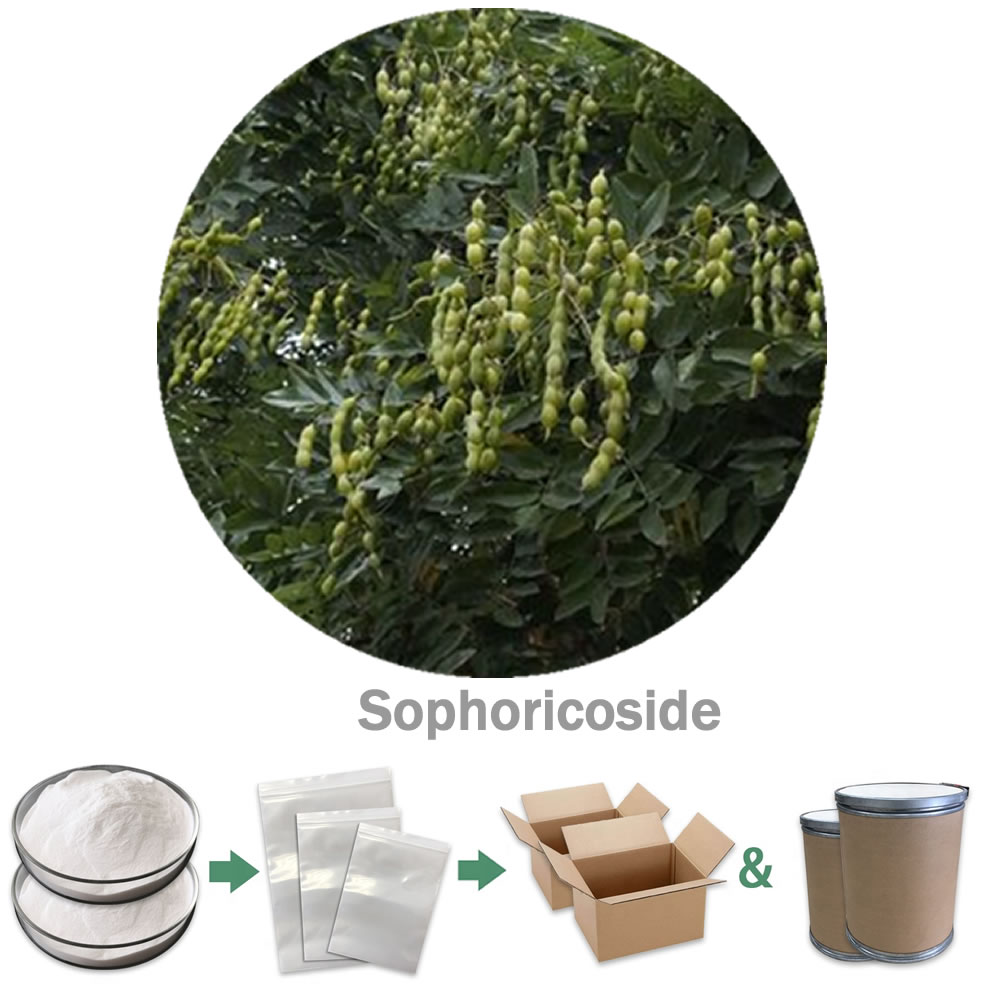 Product Name:Sophoricoside
CAS NO.:152-95-4
Plant Source:Sophora Fruit Extract
Sophoricoside is an isoflavone Genistein glycoside found in the dried ripe fruit of Styphnolobium japonicum (L.) Schott, a herb used in traditional Chinese medicine. At the time the chemical was discovered and named the plant was called Sophora japonica L.
Product description
Sophoricoside is a flavanoid obtained by extraction from the vegetable raw material, Scphora japonica L. It is vital in its ability to increase the strength of the capillaries and to regulate their permeability.Genistein is a variety of isoflavone which is most active, the product Genistein of our company is derived from dryand mature fruit of bean plant sophora Japonica.It is a pure and single element.It is a compound of heterocycle polyphenol.
| | | | |
| --- | --- | --- | --- |
| Product Name: | Sophoricoside | Plant Source: | Sophora Fruit. |
| CAS No.: | 152-95-4 | Type: | Herbal Extract |
| Part: | Sophora Fruit | Grade: | Pharmaceutical Grade |
| Appearance: | Light Yellow to Off White Powder | Test Method: | HPLC |
| Particle Size: | 100% Pass 80 Mesh | Specification: | 98% |
| Molecular Weight: | 432.37 | Molecular Formula: | C21H20O10 |
| Melting point: | 298°C | Solubility: |  insoluble in water, ethanol, acetic acid, slightly soluble in hot ethanol, hot acetic acid, soluble in pyridine, alkali, insoluble in ethyl acetate and acetone. |
| Place of Origin: | China | Application: | Pharmaceutical intermediate |
| Product Categories: | Miscellaneous Natural Products;Natural Plant Extract | Packaging: | bottle, CAN, DRUM, Glass Container, Mason Jar, Plastic Container, Vacuum Packed or customuzed according to clients's requirements |
Function of Genistien
Genistein has the function of anti-oxidation.
Genistein has the properties of estrogen and anti-estrogen.
Genistein can suppress the activation of topoisomerase II, and suppress the activation of protein tyrosine kinase(PTK).
Genistein can improve the anticancer drug's effect and suppresses the blood vessel to be produced etc.
Application of Genistien
Genistein applied in the field of pharmaceutical,genistin can be made into suppositories, lotions, injection, tablets,capsules and so on.
Genistein applied in the field of health care products,genistein can be used as beauty care products for women and also it can prevent blood diseases and cancer.