Luo Han Guo extract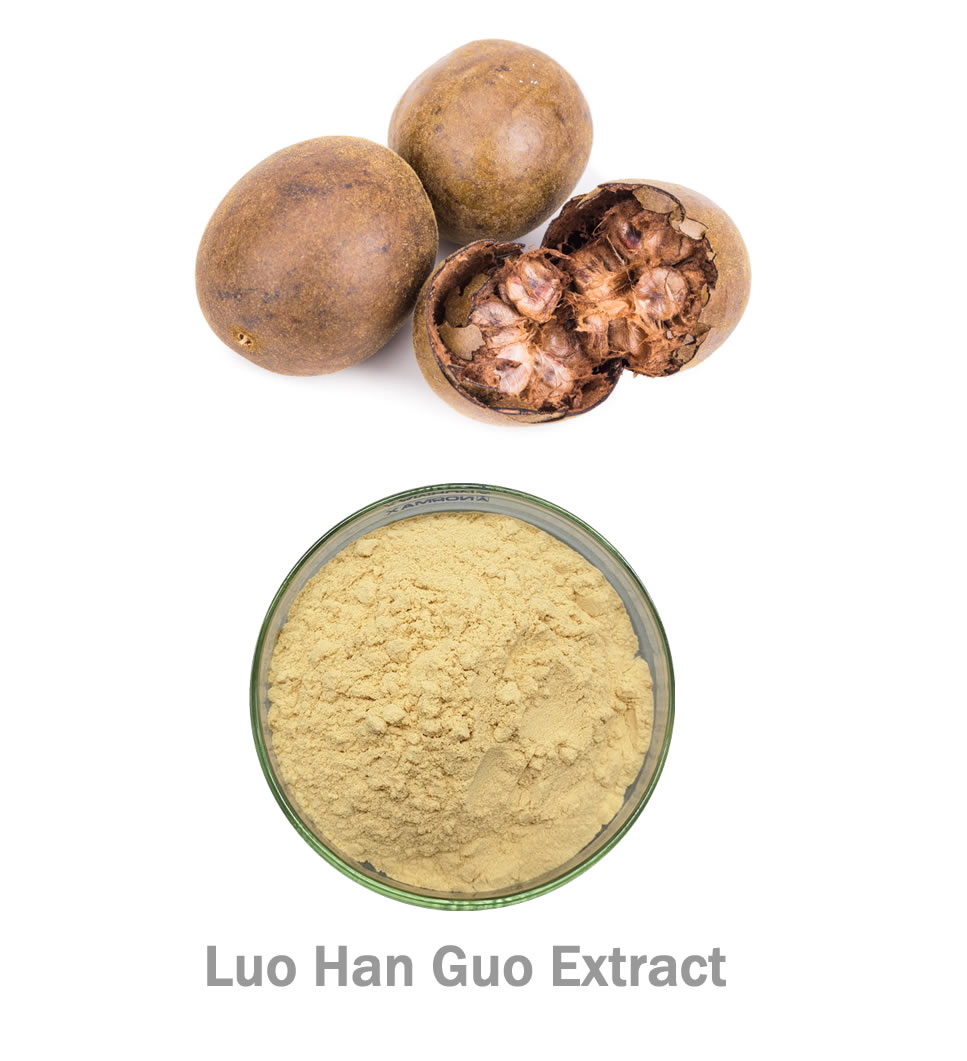 Product Name:Luo Han Guo Extract (Monk Fruit) / Natural Sweet Monkfruit Extract powder /Monk Fruit Mogroside V
CAS No:88901-36-4
Latin Name: Momordica grosvenori Swingle
Grade: Food
Function: Health proctect
Test Method: HPLC UV
Place of Origin: China
Brand: Ruistars
This product is an incredibly exciting and totally unique new sweetener that provides benefits no other sweeteners can! Unlike sugar, Stevia, Equal, Sweet ON Low and other ordinary sweeteners, Luo Han Guo extract does not stimulate fat storage, elevate insulin levels or raise cholesterol.
If you are interested, you can contact us for free sample test. Please contact us by email:Anders.xiao@ruistars.com.
Product description
The Luo Han Guo plant is cultivated for its fruit, whose extract is nearly 300 times sweeter than sugar and has been used as a low-calorie sweetener. The sweet taste of the fruit comes mainly from mogrosides, a group of triterpene glycosides that make up about 1% of the flesh of the fresh fruit.Through solvent extraction, a powder containing 80% mogrosides can be obtained, the main one being mogroside-5 (esgoside).
It is used for Traditional Chinese medicine and applies to cure disease, such as high blood pressure, pulmonary tuberculosis, asthma, gastritis, whooping cough, acute & chronic tracheitis and acute & chronic tonsillitis, etc. Luo Han Guo fruit and its extract are dual-use in therapeutic and health products. At present, Luo Han Guo extract is allowed to use as a food additive in these countries: Japan, Korea, Thailand, Singapore, Europea, USA (GRAS Approved) , Australia and China, etc.
| | | | |
| --- | --- | --- | --- |
| Product Name: | Luo Han Guo Extract /Monk Fruit Extract | Latin Name: | Siraitia Grosvenorii |
| CAS No.: | 88901-36-4 | Type: | Herbal Extract |
| Plant Source: | Fruit | Grade: | Food and Pharmaceutical Grade |
| Appearance: | White to Light Yellow-brown Powder | Test Method: | HPLC&UV |
| MF: | C60H102O29 | Specification: | 80%-98% Mogrosides 20%-65% Mogroside V Monk Fruit Juice Powder |
| MW: | 1287.43 | Certificate: | ISO9001/Halal/Kosher/GMP/HACCP |
| Extraction Type: | Solvent Extraction | Place of Origin: | China |
| Sample: | Available | Active Ingredient: | Mogrosides/Mogroside V |
| Botanical Name: | Momordica Grosvenori | Solubility: | 100% water soluble. |
| Used: | flavor enhancer in foods and beverages | Packaging: | 25kgs/fiber Drum or customuzed according to clients's requirements |
Luo Han Guo extract Applications:
1.Beverages: Beer, Wines, Carbonated Soft Drinks, EnergyDrinks, Iced Tea, Iced Coffee, Sport Drinks, Isotonic Drinks, Powder SoftDrinks
2.Baked Goods: Breads, Cakes, Cookies, Brownies, Pies
3.Condiments / Sauces: Ketchup, Mustard, Mayonnaise,Pickles, Steak Sauces
4.Confections: Hard and Soft Candies, Chewing Gums,Chocolates, Chocolate Powders, Cereal Bars
5.Dairy Products: Tabletop Sweeteners, Yoghurts, IceCreams
6.Personal Care: Cosmetics, Lipsticks, Mouth Washes,Toothpaste, Cough Syrup, Dietary Supplements, Protein Drinks, Replacement MealDrinks, Vitamin bars
Luo Han Guo extract Function:
1.Natural sweetener without any Calories which is beneficial for diabetic and Obesity
2.Strong antioxidant properties.
3.To relieve cough and sore throats and respiratory ailments etc.
4.To improve immunity
5.Does not stimulate insulin production or fat storage.
6.To protect liver
7.Promoting heart health
8.Improving digestive