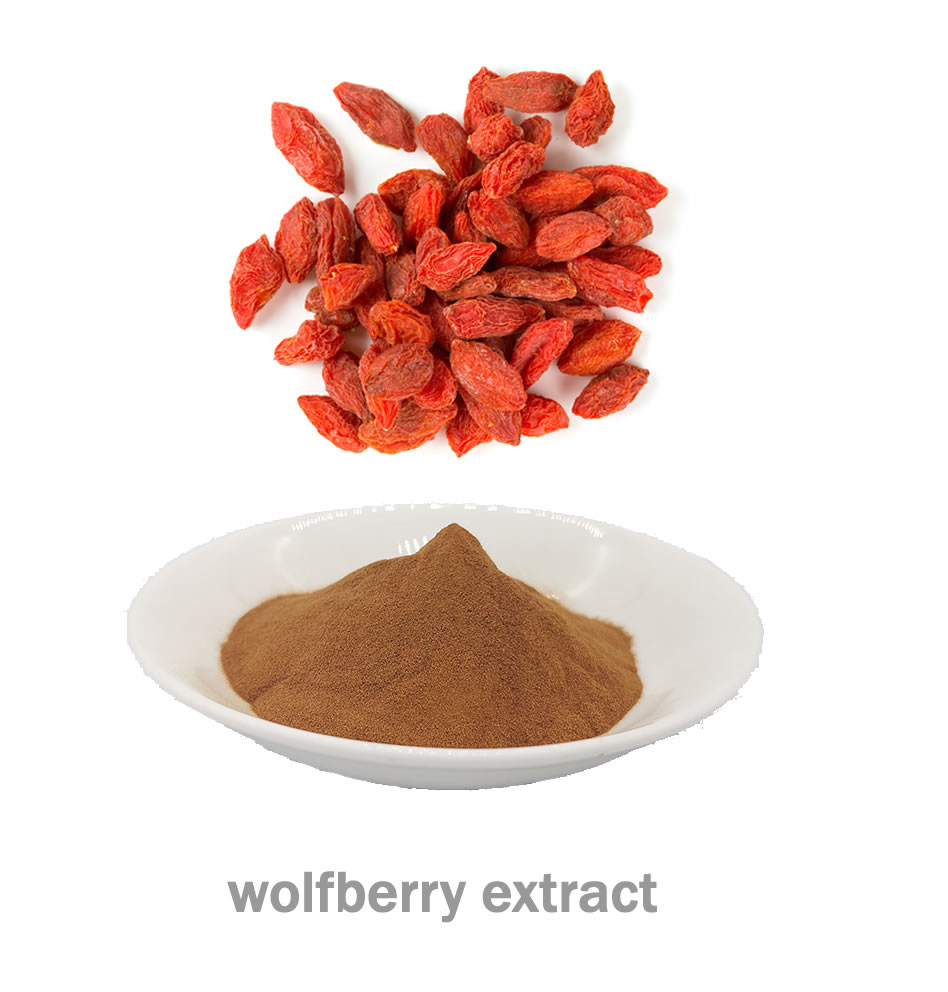 Product Name: Wolfberry Extract / 100% Natural Goji Berry Extract/Wolfberry Fruit Extract
Latin Name: Lycium barbarum L
Test Method: UV
Active Ingredient: Lycium barbarum polysaccharides
Specification: 10%~70%
Appearance: Yellow Fine Powder
Wolfberry is normal in China,and what we usually said goji is gojizi.The main active ingredents are Polysaccharide, betane ,wolfberry pigment.
Wolfberry extract has the functions of enhancing and adjusting immunity,improve the cellular immune function for elders.And has the functions of enhancing blood-forming markedly.
Product description
Wolfberry extract,Tonify liver and kidney, benefit shrewd eye.Used for deficiency of labor and fine, waist and knee pain, dizziness, tinnitus, internal heat and thirst elimination, blood deficiency and yellowing, eyes faint.Has the promotion effect to the immunity, simultaneously has the immune regulation effect;Can improve the level of blood testosterone, strong role;It can promote hematopoietic function.
It also has a significant effect on white blood cells in normal healthy people.Still have fight consenescence, fight mutation, fight tumour, fall blood fat, protect liver and fight fatty liver, fall blood sugar, fall blood pressure effect.
Regulate immunity, delay senility old people easy fatigue, loss of appetite and blurred vision and other symptoms.
Product Name:
wolfberry extract
other Name:
goji berry extract

keyword:

goji berry powder
Plant Source:
Fruit
Grade:
Food and Pharmaceutical Grade
Appearance:
yellow brown powder
Test Method:
HPLC
Specifications:
Lycium barbarum polysaccharide 20%, 30%, 50%,100%
Variety:
goji berry Extract
Certificate:
ISO9001/Halal/Kosher/GMP/HACCP
Extraction Type:
Solvent Extraction
Place of Origin:
China
Sample:
Available

Storage

:
A cool, dry place that is moth-proof
Application:
Medicine, health care, cosmetics
Material:
Natural goji berry  Fruit
Active ingredients:
lycium barbarum polysaccharide
Packaging:
25kg/drum or customuzed according to clients's requirements
Wolfberry extract (Goji extract)contains lycine, carotene, ascorbic acid, linoleic acid and a dozen different of hydrochloric acid such as aspartic acid, glutamic acid, methionine and taurine as well as many trace elements containing to Fe, Zn and Se.
Wolfberry extract:
1. Wolfberry polysaccharide is used as pharmaceutical raw materials and stuff.
2. Wolfberry polysaccharideis used in beverage for health care.
3. Wolfberry polysaccharide is used as healthy food additive.
Chinese wolfberry extract Function:
1. This product can enhance immune and immune regulatory function.
2. This product significantly promote the role of hematopoietic function.
3. This product has With hypolipidemic, anti-fatty liver effect.
4. This product have With hypolipidemic, anti-fatty liver effect.